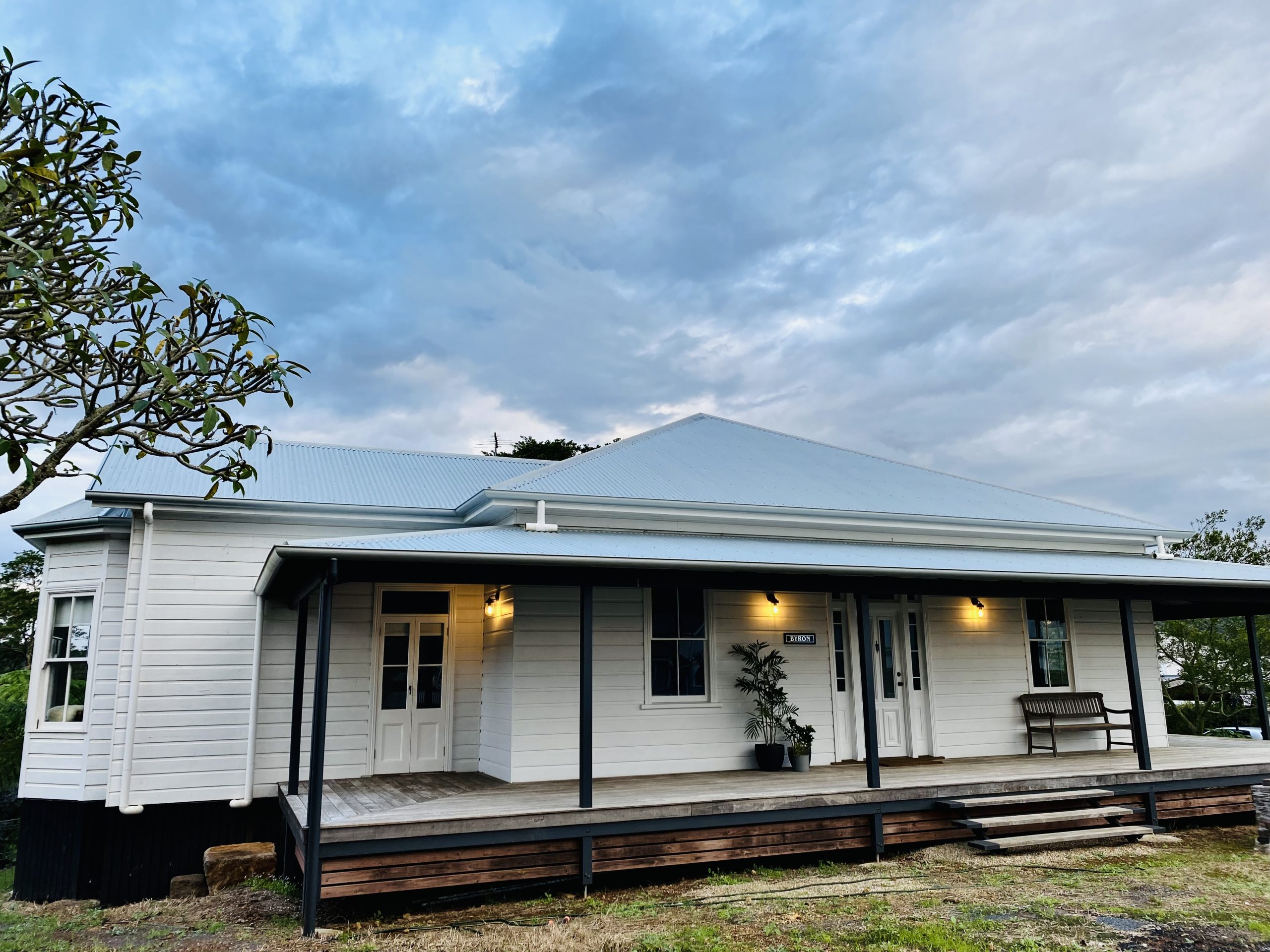 100 years on from the death of Bangalow town founding father, Thomas Robinson, Jenny Bird takes a look at the early sub-division of the former Big Scrub, and checks in with the new owners of the original Robinson homestead.
When Aaron and Louise Grofski bought an old timber house in Charlotte Street Bangalow in 2005 they did not know that they had bought a significant piece of Bangalow history.
"When we discovered that the house had been the retirement home of Tom and Charlotte Robinson we realised that we had a responsibility to restore it properly" says Aaron. "We read the Robinson family history and gathered photographs and information from the Bangalow Historical Society. We're using photos of the old house as reference points to guide our restoration work. There's lots of transported Queenslanders in Bangalow now, but there aren't that many original Bangalow houses left."
The 6th of May 2022 will be the 100th anniversary of the death of Tom Robinson.
Tom was the first white settler to buy land at what was then called Byron Creek, later to become Bangalow. He arrived in Ballina in 1881 by boat from Sydney. With his brother John and friend William Barby, Tom cut a road from Charlie Jarrett's farm at Newrybar to Byron Creek.
Tom lodged a claim for 488 acres of uncleared Big Scrub at the Lismore Lands Office. Under what is known as the Robertson Land Acts of 1861 unsurveyed Crown land across NSW became available to selectors under the 'Free Selection before Survey' scheme. Selectors could choose small parcels of Crown land anywhere in NSW at £1 per acre. They were required to pay a deposit, live on the land for three years, make improvements, and pay it off over time. Tom paid off his debt and was granted title in 1904.
In passing these Acts the NSW Government, without treaty, extinguished the rights to land (under the British legal system) of indigenous people across NSW.
75,000 hectares of Big Scrub – subtropical rainforest so dense that you could not see the sun – was cleared between the 1880s and 1900. An estimated 100 million trees were felled, leaving only one percent of remnant forest.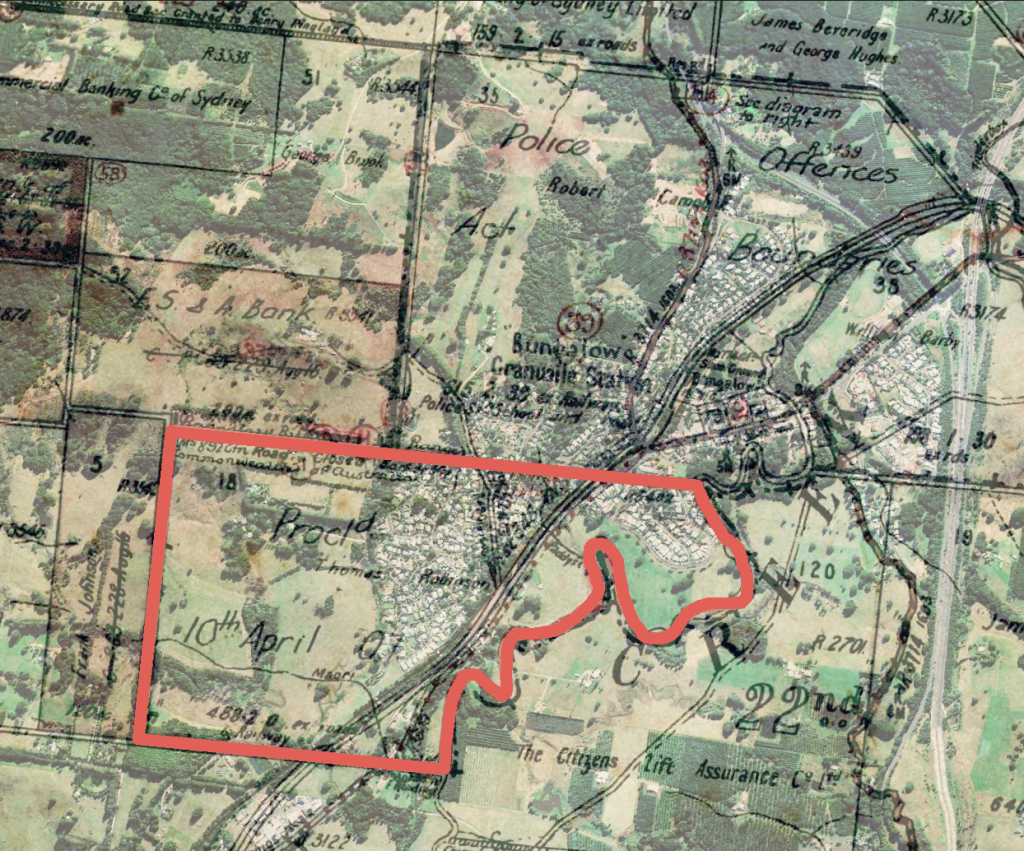 Living in a tent, the three men took six months to clear 20 acres of rainforest. They then built a slab hut from felled sassafras trees. There was no grass, and they had no horses, so they walked to the nearest store at Tintenbar to get provisions from Sydney – beef in brine, butter, tea, flour and sugar. Once the hut was finished Tom went to Dungog and reunited with his wife and the first four of their children. They travelled to Sydney, then by steamer to Ballina, then by rowing boat up Teven Creek to Tintenbar. Jarrett met the family with his horses, and they rode to Byron Creek to their new home, the hut made of sassafras. They planted corn and bought the first cow in Bangalow. Tom had a bullock team and hauled logs, ploughed a section of the new railway line, bought a small herd of dairy cattle and made butter, eventually building a butter factory on his farm.
Charlotte, the first white woman to live at Byron Creek, became the midwife of the area. Untrained, she travelled all over the district delivering babies – attending more than 60 births over 19 years. She never lost a baby or a mother and never charged for her services. Her fifth child Mabel was the first white child to be born here, in 1883.
In 1886 the Robinsons built a larger five bedroom farmhouse near the Lismore Road and called it 'Sunnyside'. By now they had seven children, with two more yet to come. A baby had died earlier at Glenthorne near Taree. 'Sunnyside' still sits proudly on a knoll just out of Bangalow on the way to Lismore.
If you live anywhere in what used to be known as 'West Bangalow' – west of Granuaille Road or up behind the Catholic Church or in the new Meadows Estate then you live on the original Robinson selection. Over time Tom and Charlotte subdivided off parcels of the land – to George Reading where Readings now stands and into three smaller farms on the northern side of the railway line. On 29 July 1903 Robinson's first residential subdivision in the village of Bangalow went to auction. Tom and Charlotte built their retirement home 'Byron' in Charlotte Street, which is the house that Aaron and Louise Grofski bought and are restoring.
Robinson family member Mike Fahey says of the Grofski's "my cousin has told me about the wonderful work you have done in the restoration of Grandpa Thomas' homestead. I think Thomas would be so happy to see your awesome work. Thank you."
Jenny Bird