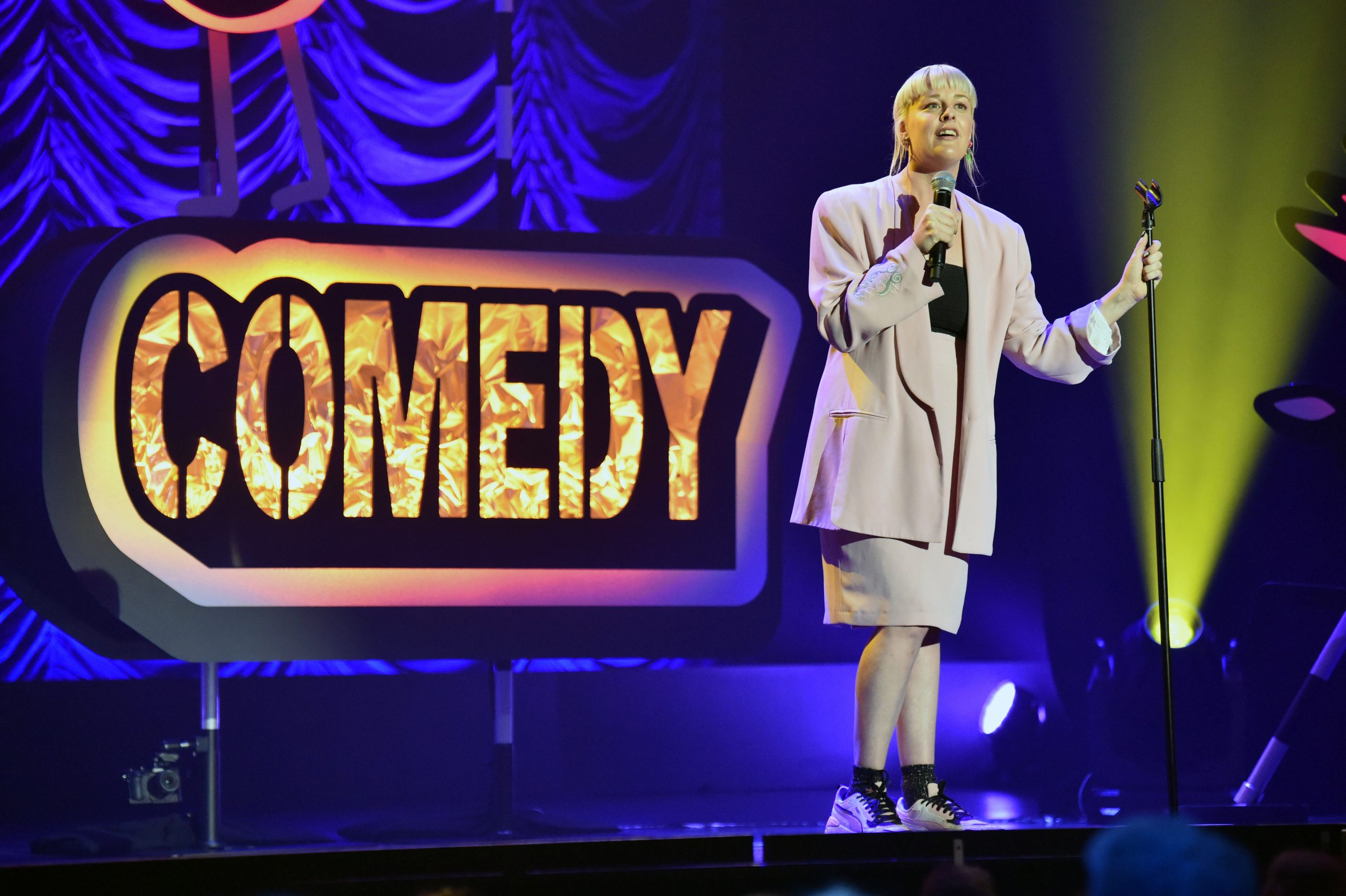 Alexandra Hudson has a penchant for pastel hues. Her hair is sometimes fairy-floss pink, sometimes mauve. When she took to the stage at the RAW Comedy Competition, part of the world-famous Melbourne Comedy Festival in April, she donned a softly structured pale rose suit. And won.
Alexandra has lived with cerebral palsy her whole life, a condition that can affect everything from posture, movement, and coordination to speech and even sleep. But in the spectrum of things, her disability is often not visible. "I feel like I'm constantly having to explain my disability, because I don't use mobility aids, and just sitting there looking 'normal'. Whatever that means."
But to estimate Alexandra all sugar and spice would be a mistake. She's got some devilish insights and dark takes that have a non-disabled audience laughing at themselves.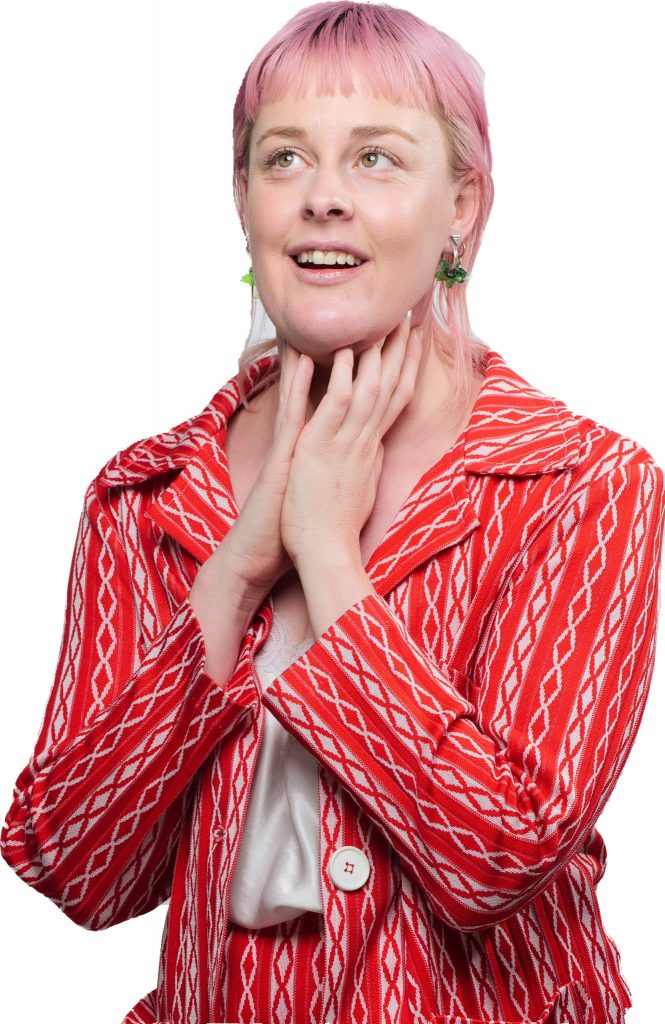 In 2015, Alexandra lived in a heritage cottage in Station Street, Bangalow. "Every house I've ever lived in has some kind of accessibility issue," she says. What she remembers most about the town is its uneven pathways, high gutters, footpaths that abruptly end, and inaccessible parking. "It was not an inclusive environment, physically."
A graduate of Mandy Nolan's stand-up comedy course, Alexandra has tapped the vein of her own unique lived experience but her observations also ring true for many others with differences or disabilities, hidden or otherwise. "I'm very deliberate with how I present myself because I'm only speaking from my experiences. For me, having a disability isn't the joke. I never want to make fun of that. I want people to understand that I'm very proud to be a disabled woman," she says.
"Mandy was the first person to say to me 'You can win RAW'. I ran into her at the Brunswick pub, and she just said 'Are you doing RAW? You know, you can win'. That conversation was a real catalyst for me; it really motivated me."
This year, more than 1000 emerging comedians registered to complete in RAW Comedy, hitting the stage with their best five-minute stand-up set running over dozens of heats and on to the finals. For the first time in 27 years, there was a joint first place awarded with Alexandra Hudson and Bron Lewis announced as winners.
"You put in the hours, and you get there. I've done a lot of the hard work, but not without a lot of people along the way supporting me," Alexandra says. Mandy even flew to Melbourne to attend the finals, having more than an inkling about the potential of her former mentee. "When I saw her, it was really emotional," says Alexandra.
Alexandra draws on autobiographical insights to highlight the commonalities faced by disabled people in our communities, to show how inaccurate non-disabled people's perceptions can be. The watercolour hues of her physical persona stand in stark contrast to the truth bombs she lobs into the audience. "I'm told that I've got quite a quiet, gentle presence on stage, but some of the jokes I make are a little bit darker. The audience are not expecting it. It makes my comedy much more effective."
Comedy is a form of storytelling that for the audience can provoke powerful self-reflection. As a platform for advocacy and awareness around diversity and inclusion, comedy is gold. In taking out the RAW competition, Alexandra joins such stellar alumni as Hannah Gadsby, who has done important work increasing visibility for the LGBT+ and neurodiverse communities through her humour.
But sometimes you can't teach an old dog new jokes. "I've heard a few ableist jokes in comedy, and a lot of them are just appealing to the lowest common denominator, playing on these outdated, horrible stereotypes." Chris Rock's ableist clanger about Jada Pinkett Smith's alopecia at the 2022 Academy Awards is a classic, cringeworthy example. "That joke was inappropriate. And hurtful. And in such a public space!
"In comedy you should never punch down, you should always punch up, so making fun of anyone's disability is really bad. I'm not at all condoning Will Smith's response. I'm disappointed by his reaction, and it also shifted the focus from what Chris Rock said as well."
There's still much work to be done in 'normalising' disability and changing preconceptions that disabled people can't be funny, strong, confident, successful. "The perception of disabilities kind of like 'Oh, you're so cute,' mean they're often linked with like being childlike or infantile," says Alexandra. She also calls out the privilege that those who live so comfortably with social acceptance and accessibility are often oblivious to.
"I talk about disability almost exclusively," says Alexandra. But far from being self-depreciating, she uses her space in the spotlight to turn the focus back on non-disabled folk and their perceptions and misconceptions. She hopes non-disabled people will reflect on the challenges they often don't see – pathways, public toilets, policies, and all.
"There's so much negativity and stigma around disability. So, when you're proudly disabled and have your non-disabled audience laugh at themselves, even just in that moment, it makes you think anything is possible."
The 2022 RAW Comedy National Grand Final will be broadcast on SBS Viceland later this year, but in the meantime, check out alexandrahudsoncomedy.com for tour dates and get ready to have a good hard laugh at yourself.
Sally Schofield