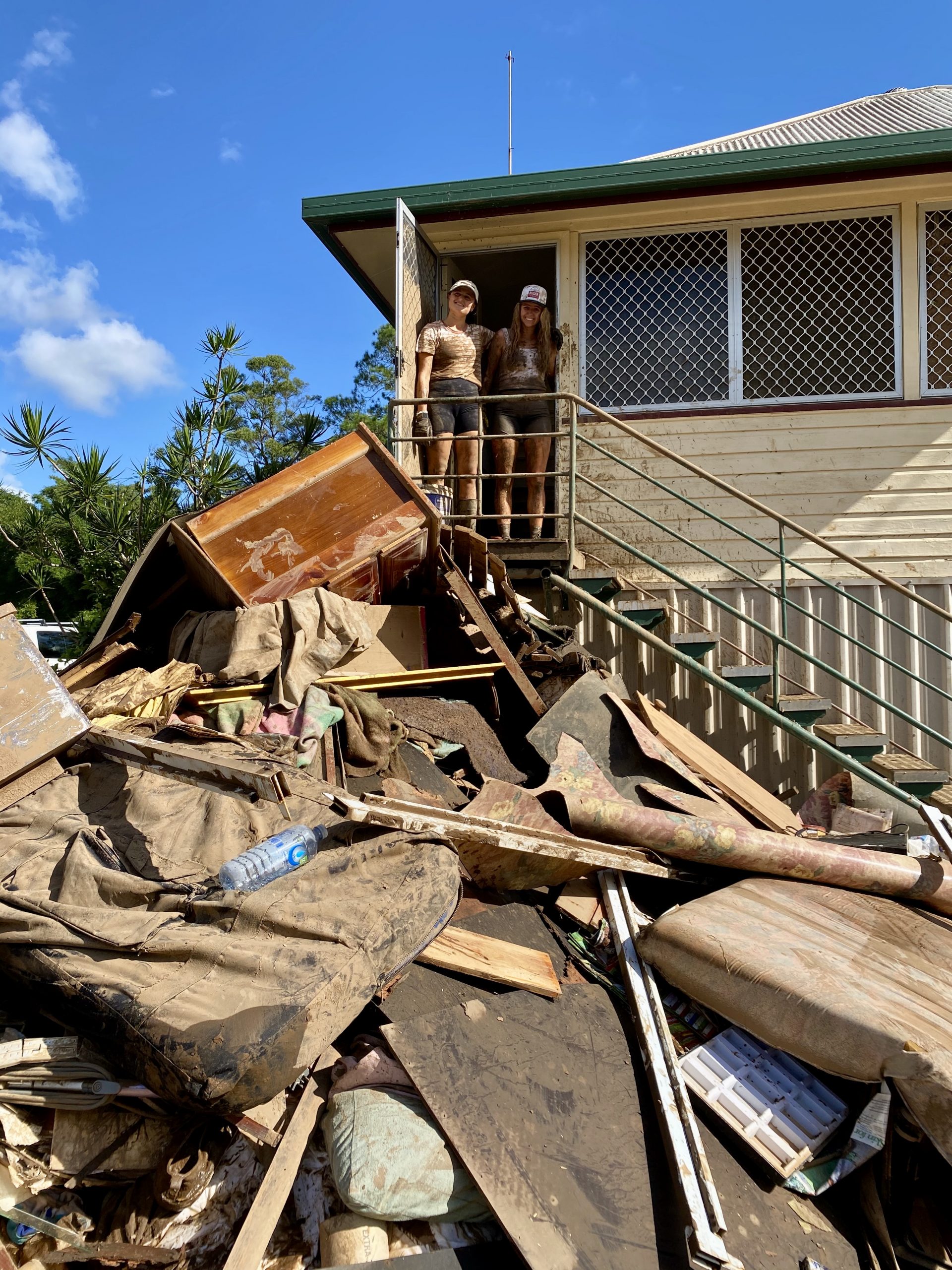 A people's army mobilised itself to support the region during the catastrophic flooding last month. Digby Hildreth talked to just a few of its thousands of foot soldiers.
A common theme runs through the many stories being told about the nights and days of dumping rain and the deluge it delivered in the first days of March, drowning towns and villages across the Northern Rivers and beyond.
Alongside the reports of official unpreparedness and complacency, and of heartbreaking loss and trauma, accounts emerged, time and again, of extraordinary selflessness, courage and compassion, as people leapt into action to help neighbours and strangers alike survive, be safe, and recover.
The community spirit displayed – an instinctive care for others – was the great gift of the disaster, though it came wrapped in stinking mud. After two years of anxiety and division caused by an invisible, air-borne threat, the floods – an identifiable common enemy – brought us together.
Bangalow – much of Byron Shire – was relatively unscathed and fielded great numbers of such folk, each stepping up according to their talents and capabilities.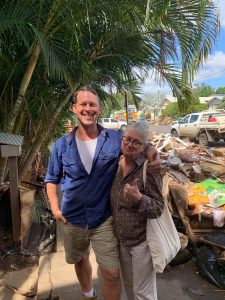 Among them were burly blokes braving the waters in boats and swimming into homes to carry out children and the elderly and ferry them to safety; legions of sandwich-makers working with military precision to make sure no-one went hungry; a Binna Burra businessman paying for canopies and generators and the creation of an access way into Lismore Showgrounds; and local vets housing and treating injured and terrified animals.
Local mother Kieryn Deutrom heard about the disaster while in Brisbane with her two girls, promptly did a big shop of toiletries and food and headed straight to the Newrybar Hall, which had become, overnight, a bustling help centre brimming with produce and dry clothing. She then spent the next five days at the A&I Hall – the hub for a pop-up food-producing factory that saw tens of thousands of meals cooked and delivered to places in need.
Chef and Woods Café co-owner Sam Campbell's emotions well up as he recalls how it felt to see his community's sense of impotence at the scale of the disaster morph into concerted action; to be among dozens of people working in harmony.
"Our chefs and staff really stepped up," Sam says. "It was so touching and beautiful. Some said they've never felt so proud of living here because of the way the community responded, and the willingness and courage to get in there and get it done – contributing their time, energy and money, and mostly without ego or attachment or desire for anything else. That's one of the most amazing aspects of this."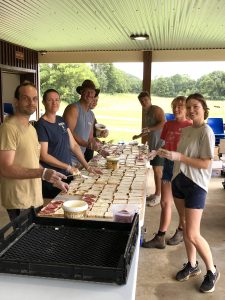 What began as a spontaneous eruption of individuals' need to help at a time of unprecedented crisis quickly became a well-oiled machine. Workers in the Woods kitchen joined the bigger team in the A&I Hall, from there to the Moller Pavilion in the Showground and then to the Lions Kiosk nearby, where platoons of volunteers formed production lines.
The 2479 food effort kicked off, unsurprisingly, with CWA members cooking at home and dropping the meals off at the Showground, where Rosemary Hill was one of a number of drivers taking them to people in flood-hit towns.
Rosemary, a Possum Creek beef cattle farmer born in Bangalow Hospital, says it was a natural response, but also one sharpened after experiencing the 2017 floods that devastated Lismore.
"Like then, the region was an island for a while," she says, so she knew that there would be little food available for a few days and that the grassroots community had to act.
The call went out for meals to be cooked and brought into town, where they would be loaded up and transported to Summerland Christian College, a resource hub for Lismore.
After a couple of days of this – the details are blurred in everyone's mind – Rosemary recalls "a chef sticking his head in the door and asking what he could do to help".
That chef was Wal Foster, founder of Natural Ice-cream Australia, who, with caterer Pip Sumbak, owner of Pip's Plate, took the operation to the next level. Systems were put in place and roles allocated, including a receptionist to triage people arriving with food donations, and to update details of areas of need. The logistics of the effort took on a military precision.
"Wal and Pippa did an amazing, amazing job, including organising a private helicopter to deliver food to a cut-off area," says Rosemary. "There's was a massive effort and they deserve all the accolades." (Modesty is a striking feature of the disaster: people repeatedly downplayed their efforts. Rosemary risked her personal safety to get food delivered, even sliding down a muddy hill near Lismore in her 4WD.)
As the scale of the disaster escalated, so did the team's focus. Wal estimates that 15,000 sandwiches were made at the Moller Pavilion; needing more capacity, he asked the Lions to open their kiosk, which has a large kitchen and a cool room – "large enough to face the apocalypse", he says.
Wal also rallied Byron Shire food businesses: Bread Social had been helping with supplies of freshly-baked loaves, then Stone and Wood reached out to their contacts to gain access to kitchens capable of producing bulk food as fast as possible. Among the 20 or more restaurants taking part, The Beach Hotel, Bay Leaf, Papaya, the Lennox Hotel and Bruns Bakery made their kitchens available – and the contents of their coolrooms. Coopers Shoot Tomatoes, Trevor Mead Butchers, Bangalow Farm and many others contributed fresh produce. Local gardeners brought in armfuls of basil to be made into pesto; a woman from Brisbane headed down with a truckload of watermelons.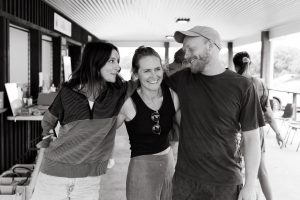 With the help of heavily detailed white boards, the supply chain and transport roster became highly organised and effective, on a mind-boggling scale: Lions president Greg Nash says 70,000 wholesome meals and sandwiches were generated in 10 days – "and no army rations among them", says Pip.
Maintaining that culinary quality was a priority for Sam, whose goal had been to make the Woods meals as tasty and nutritious as possible. And as fresh. Bangalow mother-of-two India Reynolds, who worked alongside Sam from the get-go, says India "the first day we got into Coraki there was great joy from people seeing a salad. They hadn't had anything fresh for a week".
Meals throughout the crisis went to evacuation centres, "helicopter guys", street teams and "feeding people who were cleaning out their houses", India says. In larger areas like Mullum and Lismore, the team sometimes went door to door.
India's first inkling of the severity of the floods came from her mother, who lives in Lismore. "She was safe, so as a Bangalow local and regular at Woods I connected with Sam and began driving to deliver meals they had prepared."
This turned into a bigger role as the Woods crew became part of the larger collective effort.
"I became folded within that, co-ordinating all the vollies and food allocation and deliveries in synch with Wal and Pip. What they achieved was incredible," India says.
She and her team drove food to the Ballina SES, to Mullumbimby, Lennox Head, then Lismore, Woodburn, Evans Head and Cabbage Tree Island.
After more than a week of intense focus, Wal went south to join those on the ground working to clear houses and clean up where possible."It was carnage, but I needed to get out there, away from the whiteboards, and help people scrub and gurney their houses."
The next day he headed to Coraki and into a more familiar milieu, the kitchen, to cook more meals.
But it was not only humans that needed looking after in the crisis. Animals suffered on an enormous scale, prompting horse-mad Jazz Hardy to set up a field hospital in the Showground and enlist the help of local veterinarian Dr Megan Kearney.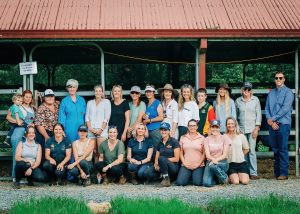 Megan, equine vet Nikita Stibbard and 20 or so volunteers ended up looking after 14 horses, some from Coraki, and some rescued from the Woodburn Bridge. All of them were injured or sick, some with swamp cancer, one with pneumonia. Many had no homes to return to. A camel that had lost two of its mates to the waters was brought in and cared for by visiting vet Dr Lu Fenny before being found a forever home.
Rosemary Hill says everyone did their bit, and that every little bit added up to a lot, but some, like electrician Jesse Palmer, went above and beyond, joining the flotilla of small boats in Lismore that went house to house, saving lives.
Jesse and his wife, Emma have lived in Bangalow for five years, but despite being near the coast he admits to being "a shit swimmer who gets queasy at sea". He does, however, know about the treacherous power of rivers from his early years in the badlands of Alberta, and he witnessed the Brisbane/Ipswich floods in 2011.
Jesse is also the proud owner of a four-metre "tinny", a 42-year-old Qintrex and with his wife's blessing knew what he had to do.
He enlisted the help of a builder friend, also named Sam Campbell, and they travelled south to the Bruxner Highway in Jesse's Land-Rover.
Despite the streams of traffic heading in the other direction, they were not prepared for the sight that met them as they crested the final hill into Lismore and found the entire basin under water.
"It is still hard to digest the size of the affected area," he says.
Despite the confusion on the ground, when the pair heard there were people trapped in a unit block, they found a makeshift ramp, launched, and headed straight to it, even as street signs were disappearing under the rising torrent.
"Sam and I pulled a father and two teens out and then we heard calls from the building next door. We dropped the family off and shot back and pulled out two men and two women."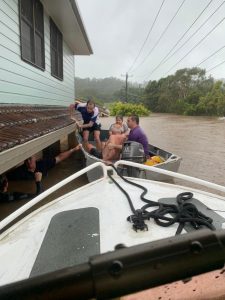 During later rescues, Sam jumped in and carried people, including a "happy and smiling" three-month-old baby, on his shoulders to try to keep some of them dry.
"We cleared out another unit block and four houses," says Jesse. "We pulled out a family of seven and their elderly neighbour. We used our boat as a bridge for the teenagers from their balcony to the tinny on the other side of us and put their personal belongings and elderly lady under our covers.
"The last house we attended contained four elderly and unfit people. We thought we could possibly drag them out of their top floor window and load them from the rooftop but it was far too slippery. With the help of another man on a kayak, Sam swam under the eaves and brought them out to our boats one by one."
One larger man was towed through the water until shallow ground was reached. "His wife and two labradoodles were high and dry in the boat," Jesse says.
He estimates he and Sam carried more than 20 people to safety.That immense courage was matched by the doggedness of members of the Mud Army – a countless number of people who turned up day after day to help with the clean-up, wading through mud and shouldering the emotional burden of engaging with families as the material sum of their lives – furniture, photographs, children's toys – was reduced to mounds of anonymous trash on the footpath.
Bangalow dad Riley Batchelor helped clean more than 25 houses over seven or eight long days, from Ocean Shores to Lismore, carrying out mud-soaked household contents, shovelling, scraping and sweeping the sludge and silt, stripping swollen Gyprock from walls.
Some houses were harder to clear than others, emotionally, says Riley, "especially those with the owners present", in a state of shock and profound grief, watching as strangers carried the remnants of their lives out the door.
Riley was joined by mates from Bangalow, working alongside young people from as far away as the Sunshine Coast. Rosemary Hill's two sons were there too: Bradley and Daniel with their rugby teams, from Byron and Bangalow respectively.
Paula Bannan, co-owner of Pack Gallery, spent five days cleaning homes, along with her daughter Indya and crews of Indya's young friends and their families.
She was struck by the stoicism of the people she encountered. "In one Lismore house was a family who had lost everything. They had two 14-year-old boys and through all the time I was there I didn't hear them complain once."
The region is in the recovery phase now – slowly trying to return to some kind of normality.
For the worst hit, "normal" is off the agenda. For many others, including the local heroes, the adrenalin will have long drained away. The trauma remains, but within that, beneath the shock and the pall of sadness hanging over neighbouring towns, there is a renewed awareness of our capacity to come together when needed, neighbour helping neighbour, and a kind of quiet joy at seeing the good in each other.
As Rosemary Hill says: "We live in a community that's full of amazing people."